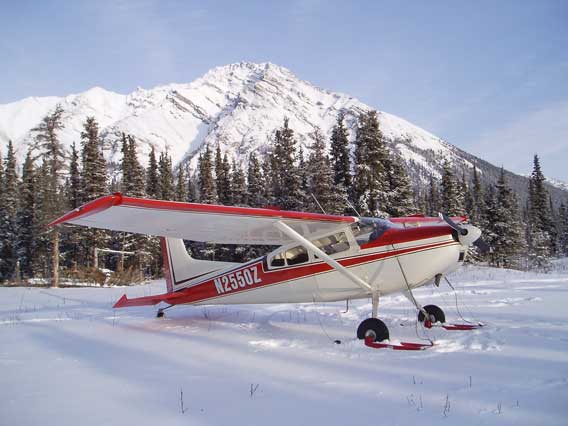 Rohn Ck Pt Iditarod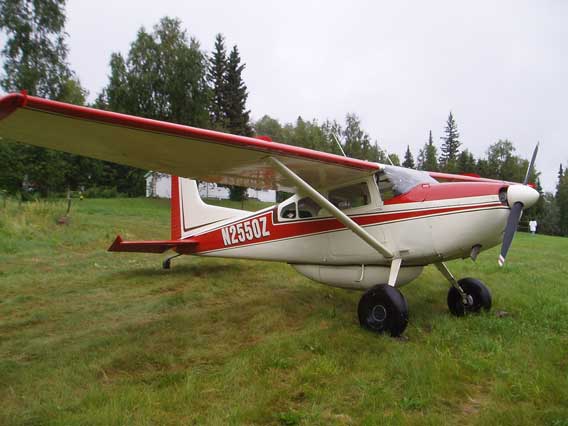 Fairbanks
Cessna 185-B Skywagon
N2550Z
SN#1850550
Tri-Star Aviation an FAR 135 1992 to 2014
N2550Z is no longer with us. Great memories rebuilding and flying around the US and Alaska
This page chronicles the restoration of an Alaskan work horse: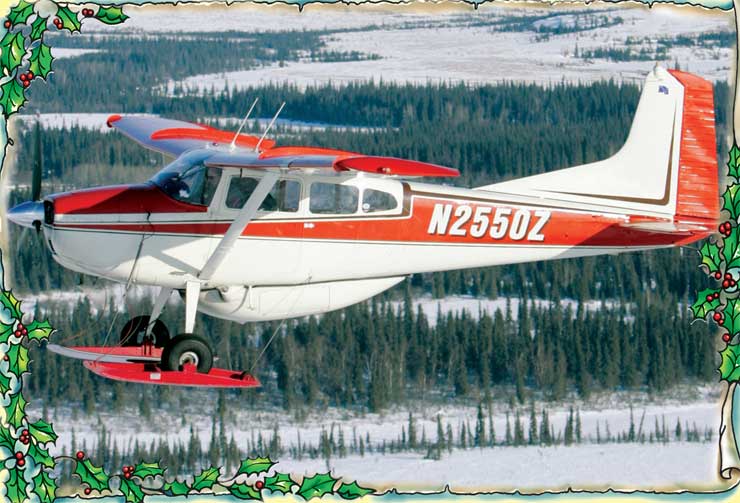 N2550Z Trade-a-Plane cover photo Dec 2007
I'm a flying project Paint me!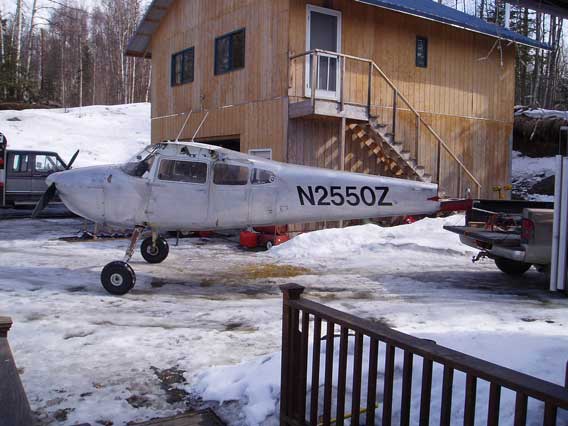 Wings off, time to go to work.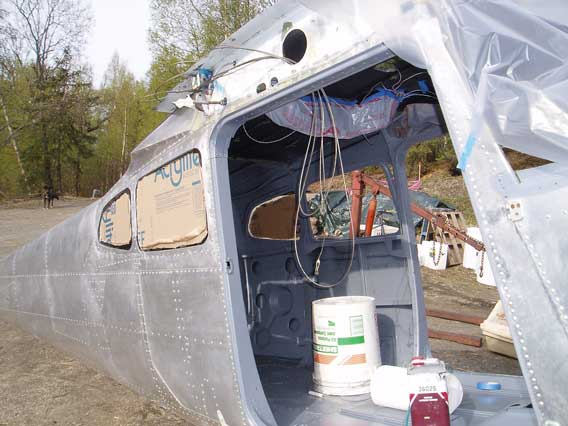 Going together, notice new windows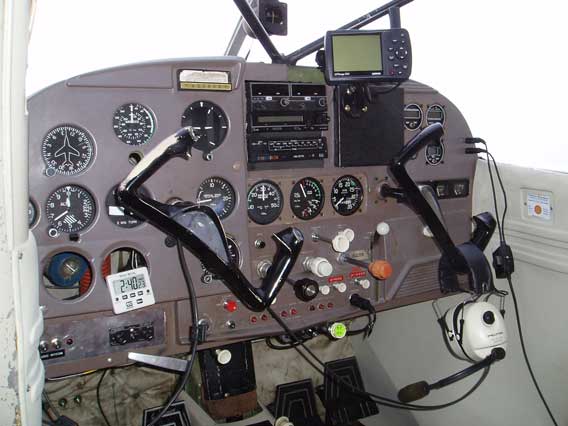 A work in progress Radios are installed
padded dash not in yet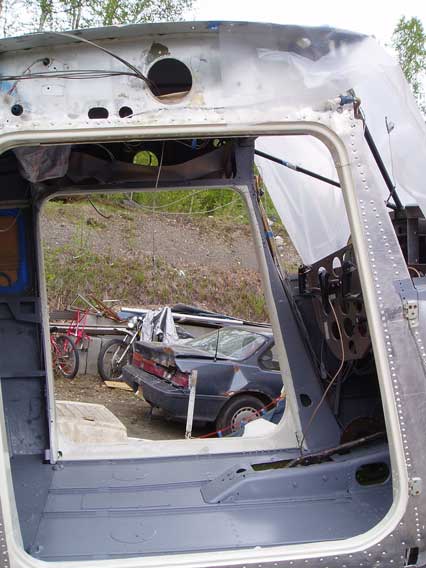 Interior primed DuPont DP50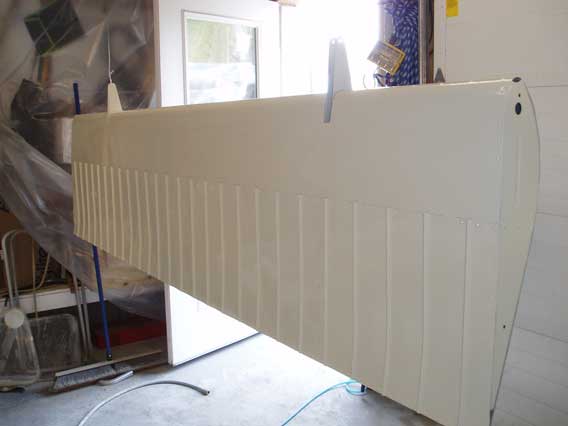 Flap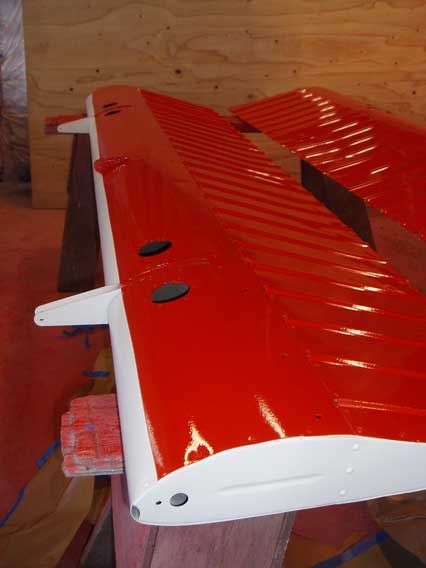 Wings and control surface
Burnt Orange/White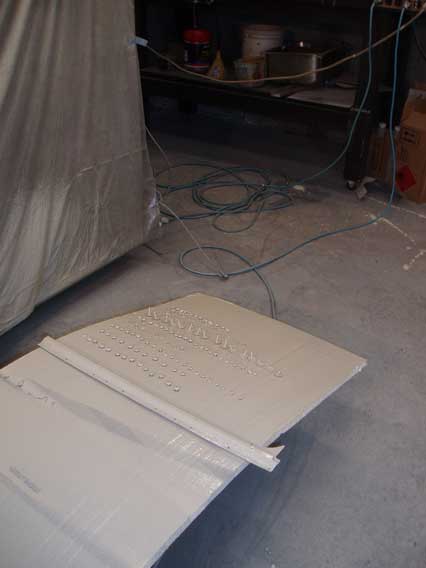 Painting screws and washers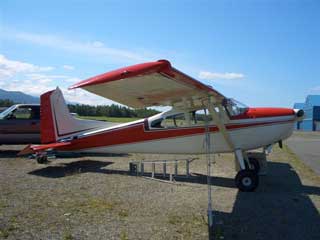 Going together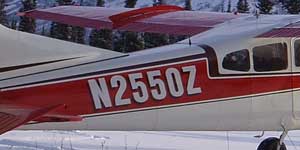 Finish N-Number shadow blocked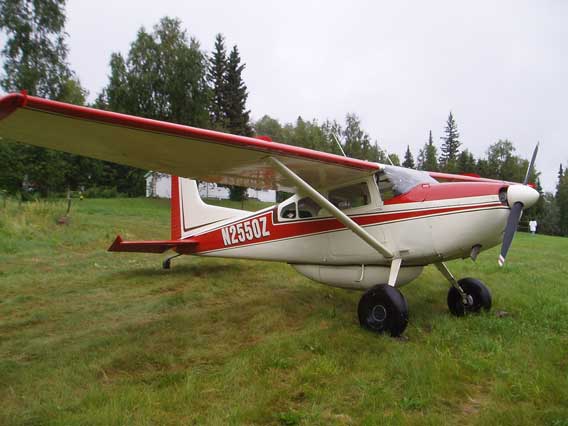 Belly Pod installed
Married to EDO 2960 floats
Cessna Aircraft first built the 180 series in 1953's. In 1960 the Cessna-185 was born. It was almost identical to the C-180 except for adding fuel injection to the continental O-470 increasing the horsepower from 230 to 260. Through the years Cessna added a many improvements to the C-185, most notably the addition of the Continental IO-520 at 300hp. Production was ceased in 1980 with thousands of C-185's being built.
First I must preface, undertaking a project of this magnitude requires some resources. A little extra cash and the necessary knowledge, skills and the FAA Airframe & Power Plant (A&P) license. While not having an A&P license would not be a limiting factor in restoring an aircraft, there are many skilled mechanics who are not A&P certified. Anyone without an A&P license would need the supervision of a licensed aircraft mechanic to ensure compliance with FAA maintenance practices, (FAA Advisor Circular 43.13) and applicable FAA regulations. Proper inspections and signoff of work preformed. Aircraft log book record keeping is required ensure a restored aircraft maintains it's airworthiness certificate and is of course safe to fly.
You also need a working knowledge of the processes and chemicals you'll be working with, most are highly flammable, toxic and even carcinogenic. You must take extreme caution and use proper protection.
I've have my A&P since 1978. Having owned, maintained and rebuilt 6 aircraft in the last 25 years I was confidently looking forward our newly acquired project, a 1963 185-B.
Diana and I purchased this 185 with the intension of not only restoring but upgrading it with many of the STC modifications developed over the last 40 years. Many STC are designed to increase the utility and safety of these old workhorses. This 185 has a factory float kit, has been operated on floats and wheel skis. It also has a cal Center Leading edge cuff. We also had a time line set. After the restoration we planned to fly it to Oshkosh for Airventure 2005! The race was on.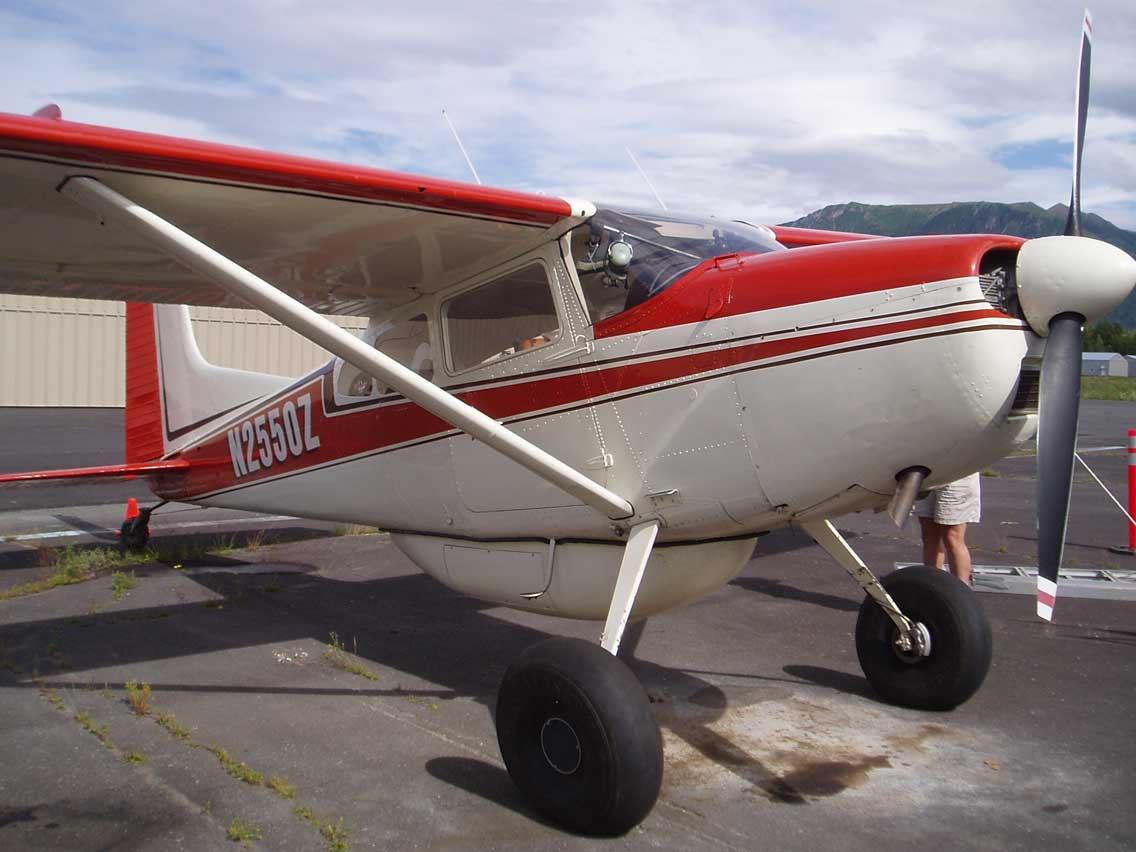 The beginning It's never Finished
I planned the restoration in 5 phases.
1. Outline; What will it look like and what modifications do we want. 2. Disassembly. 3. Stripping and Cleaning. 4. Repair and modifications. 5. Prep and Paint. 6. Assembly. 7. IO-520 upgrade. 8. EDO 2960 Floats, recondition.
1. Restoration outline: This Cessna 185, at over 40 years old has only 3700 hours. Not bad at all for it's age. However with the original paint, 50% pealed off, leaking fuel bladders and crazed windows it's in need of a lot of work. The big question was corrosion. With most of the paint weathered off and a life in mostly a dry environment there was very little and the repainting prep would take care of it.
When the restoration is complete we want a late Cessna 185 paint scheme. Bright colors for collision avoidance and top wing surface painted other than white. Here in Alaska dark wings absorb the sun even on sub-zero mornings, clearing frost.
Modifications: How deep are your pockets? You can spend thousands tricking out a Cessna-185. We opted for the most utility. All windows and windshield replaced. Heavy duty one peace Cee Baileys, no more center strip on the windshield. Flush patch several holes in belly from old antennas. New fuel bladders. MLJ extended baggage. Floor level baggage extends 32" aft. It's so low you have to install fairleads and lower the control cables. In addition it requires moving the battery so we also opted for the MLJ firewall battery. Installation uses the Odyssey battery at 1/2 the weight of the old lead acid, immune to cold, mounted on the firewall, with all the old wiring removed. Two Cessna Skylights over the main fdw cabin added, collision avoidance, great watching for traffic in a turn. P-Ponk gear mod from Steve Knop. This Gear box mod is for skis. Alaska SkyCraft cargo/fuel belly pod, an extra 29gal and 7cuft of storage space. Continental IO-520-D engine, about the most important upgrade. Operating on skis and floats in Alaska you need the 300 horsepower the IO-520 provides. The engine upgrade will include the McCauley Black Mac 3 blade prop. Considering fuel prices these days I'll install GAMI Injectors and save 1 to 2 GPH. Electronics International UBG-16 engine analyzer with 6 point EGT/CHT. FP-5 fuel flow/used system. Tanis preheat system. Interav Alternator conversion. AWI heavy exhaust system with large muffler for extra heat and extended stack. The AWI exhaust system is a welded heavy gauge stack with only one sleeved section thus getting rid of all the leaking clamps the old exhaust uses. Replaced all engine controls for smooth engine control.
Interior: Removed the all the old original junk and add; ICom Intercom with CD played plug, ICom digital transceiver, KX170B with ILS, KX-76A encoding transponder and Gramin 296 GPS. Install sound/foam in cabin, new supple headliner, fiberglass side panels, recovered seats in leather and padded dash with LED lighting.
2. Disassembly:
Always first, remove the battery, don't need any hot wires shorting. I took extra care in removing wings and all controls surfaces. Tagging cables and wiring. Catalog any damage needing later repair, listing and measuring all AN hardware. I find a lot easier when ordering new hardware for final assembly. Built wing and fuselage stands. Remove fuel bladders, all windows, windshield, battery, old wiring, interior and avionics with excess wiring.
3. Striping and Cleaning: About the toughest part of the whole restoration process. Working with chemical aircraft stripper is very hazardous and requires a lot of preparation and care. Invariably when working with stripper you get It on your skin, it's best naturalized with water. In the time it takes to pick up a wet rag and wipe off a drop of stripper from your skin the top layer of skin comes off, you have a light chemical burn with fresh skin exposed, it's painful. Imagine if you got a splatter in the eye! It took 20 gallons of stripper for this project! I only strip outdoors, the fumes are very strong and toxic. You just can't get enough ventilation to use this stuff indoors.
My proved method is to lay down poly sheeting. After stripping it's rolled up and disposed of, removing all expended stripper and stripped paint. Stripper is best used on cool 60'f overcast days, less likely to dry out and become ineffective. Gear-up, elbow length acid gloves, rubber apron and goggles. Apply liberally let stand for 10 to 20 minutes, work into old paint with stiff brush or Scotch-Brite. As stripper becomes less effective scrape off with plastic scraper and re-apply. The old paint comes off in millimeters and by layers, it's a long process. Stripping everything took 3 days. After stripping each major piece I roll up and dispose of drop sheeting.
Pressure wash with hot water, high pressure washer. I use a Kracher gas powered 4500psi unit. Pressure wash scrub and pressure wash. Every bit of old stripper residue must be removed. Any stripper left, especially in seems will cause future corrosion under the new paint.
4. Repair and Modification: As any mechanic knows, this is when the fun starts. Having the aircraft stripped cleaned and ready, the money spent and parts in hand, here we go. Guided by the manufacture installation instructions and FAA AC43.13
Reinstalled fuel bladders and completed some minor repairs on the wing tip fiberglass and set aside till painting. Riveted fabricated flush patches in several old antenna holes. Installed Transponder and GPS antenna. Fabricated template for Skylight, riveted Cessna formers and installed two tinted widows overhead. Mount, install and wire new avionics and engine instruments systems. Install clear side windows and Cee Bailey windshield.
Michael Petrie and Cory Houston installed the MLJ extended baggage, control cable fairleads in belly and vinyl rear cover, P-Ponk blocks in Landing Gear, Atlee Dodge Fuel Caps, BAS Shoulder Harness, BAS Tail Pull Handle, Alaska Bush Wheels, True Lock Axel Retention System and firewall mounted battery mount, solenoid and wiring
The Belly Pod installation and IO-520 engine and prop upgrade will be accomplished after painting. Belly Pod delivery delayed and can't afford the engine and prop till next year. O-well can't have it all right away!
5. Prep and Paint: Next to cleaning, painting prep is about the most important step. If it's not done right the paint won't last and the restoration will look like crap in a year. I use all DuPont products, Alumi-Prep, Alodine and DP50 primer. DP50 is a super etching primer great adhesion and easy to use.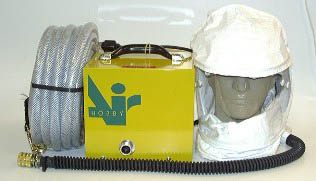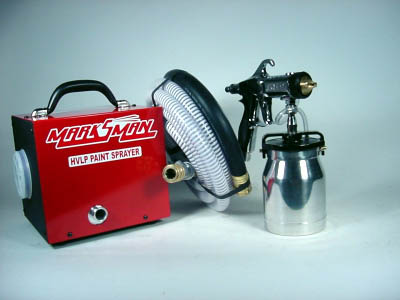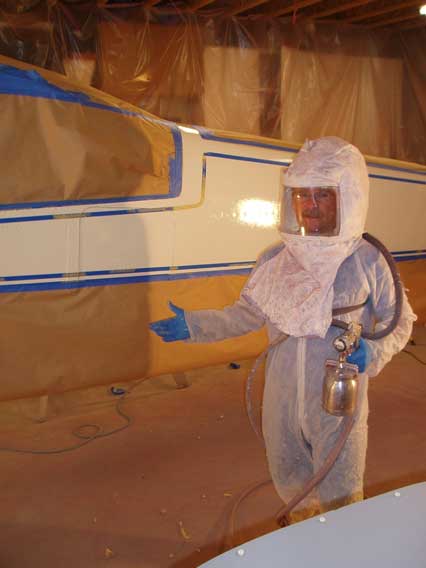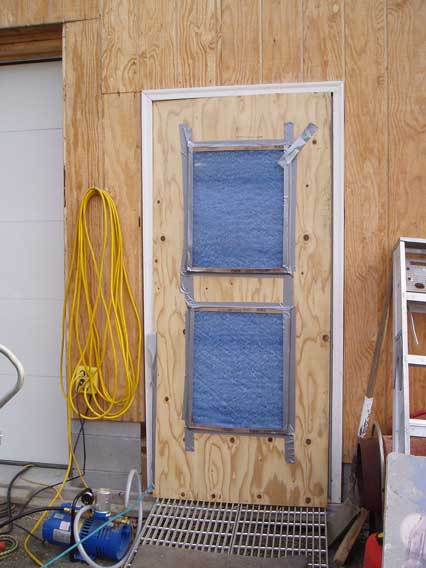 Respirator HVLP Geared Up The Filter

Best taken in stages, fuselage, wings then controls surfaces. Once again you gear up to protect from chemical exposure. Alumi-Prep is applied then scrubbed with medium Scotch-Brite to remove oxidized aluminum, dirt and oils. Clean with lots of water to remove all cleaner. Alodine is then scrubbed on with Scotch-Brite. This helps to inhibit corrosion propagation under paint. Rinse again with water. From now till final painting I'm careful to handle parts only when wearing clean gloves. Any oils from your hands will contaminate surface. I let dry overnight, tack-cloth then prime with DP50.

I'm careful to cover and keep cleaned primed wings, fuselage, controls, ect.

Paint: I used DuPont Imron paint, it's extremely durable. 4775 White, 7455 Burnt Orange and 7502 Brown. We liked the combination of colors and the Orange we felt not only looked good but was bright enough to help with visibility and collision avoidance.

My weapon of choice for shooting Imron is an HVLP. They deliver paint with warm high volume air and produce very little overspray. It's a very easy system to master. Imron is also a very toxic paint and my environment of choice is a full hood fresh air respirator system. This brings fresh air from outside and is a must for any painting. I hang a curtin of poly-sheeting around my painting area to keep all overspray out of my shop area, using an exhaust fan at one end and a plywood panel in the door opening at the other end with filters installed to reduce dust.

In stages, wings first. I set up parts to be painted, mix paint, tack-cloth wipe, gear up in tyvek suite, turn everything on and paint! I like to work the trap corners and hard angles till covered.

Then I shoot a thin transparent coat in one direction, a second thin coat in the other direction and after about 10 minutes a final fill coat.

You can see when the paint fills, the texture is uniform and there is a finish sheen. It's a find line and takes a practiced eye, if you cross it you'll get sags and runs. Sags are bad, a whole layer of paint slides and I don't have a good fix.

Runs can be fixed. I use a strip of masking tape, be quick. While the paint is flowing apply tape and remove run, re-shoot a light coat and hopefully you will have a seamless repair. I shot everything that was being painted white first, including a cardboard box covered with all the exterior screws and washers I would need.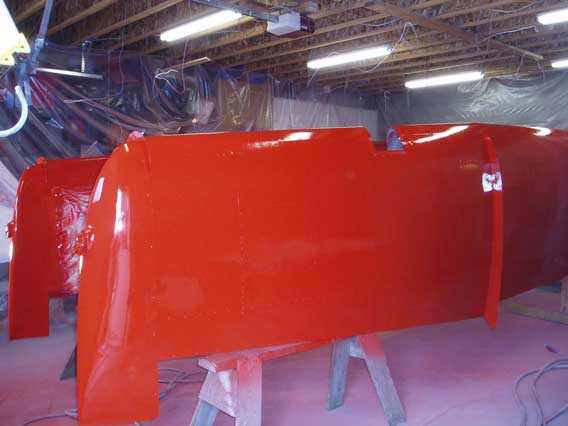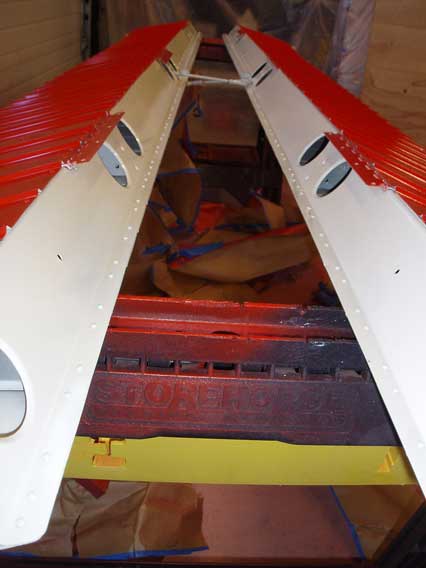 The wings 1st coat Finished Ailerons Three color finished wing

Laying out the color pattern with fine-line tape took a full day. We took a lot of time to get it looking uniform and straight. After masking all areas not taking color from getting overspray I shoot another coat of white on the areas taking color. This is a really easy and fool proof way to seal the fine-line tape and it totally prevents the other colors from bleeding in to the white. Shooting the color is as easy as it gets. I pull the fine-line tape while the last coat is setting up. You have to be really careful, it's easy to screw up the wet paint but if your successful the line edges soften and I think it produces a better finished edge.

After 3 days, 2 1/2 gallons of primer 3 1/2 white, 2 orange and 2 quarts of brown it was finished, my best paint project yet. No sag, two small runs and only two edge bleeds and I "didn't" kick the paint pot over once.

N-numbers were easy. We went with Mylar peal and stick, white with brown shadow block, a great finish from Wes at Warning light of Alaska

6. Assembly: One week before we were to depart for Oshkosh we hung the wings and began the final assembly. Horizontal and vertical stab and all control surfaces mounted. Assembled with all new AN hardware. Cables adjusted, rigged, tensioned and all fairings installed. There are a lot of little thinks and attention to detail is important, a missed wire or bad connection and something won't work right. This is where tagging everything during dissemblely pays off. Fuel and electrical connected, no leaks upon fueling, hooray! Kevin's Upholstery from Merrill Field Airport installed the headliner. With the skylights there were some tricky angles. Interior panels were an easy fit and few odd and ends and interior complete. Battery in, fueled and successfully test flew on a Tuesday, no problems at all. Thursday Diana and I loaded up our camping gear and headed across Canada and the Midwest for Oshkosh and Air Venture trek 2005. 4. Modifications (Alaska Sky Pod): The Belly Pod from Alaska SkyCrafters was delayed for a few months but finely arrived. These pods are a jell-coat fiberglass construction and form fitted to the contour of the Cessna 180/185 belly. Installation was very straight forward. The pod is mounted to the aircraft belly using AN-Rivnuts and structural machine screws. It takes some time centering the pod on the belly and marking the access holes for the fuel and electric and making sure mounting hole location do not interfere with aircraft ribs ect. After drilling all holes and ensuring a perfect fit, I removed the Pod and painted Imron 4775 White, same used for and main aircraft color. Thus it was mounted freshly painted and not dinged up from installation. Hooking up the fuel couldn't have been easier. Some installations require cutting the fuel supply line. The 185 however has a belly fuel drain with AN-T fitting, this was simply replaced with a AN-Star fitting and the supplied line to the SkyPod fuel tank was attached to this fitting. Fuel is transferred to the right wing tank when it's capacity allows, with a DC pump. A 10amp CB was installed and wired with an operating switch and pump On light on the dash. A gallon of fuel in the pod and some adjustments and a check for leaks and the Fuel/Cargo Pod was installed. This extra fuel has extended the endurance range to 8 hours in some cases. It's long time without a Lav on board. I'm very impressed with the quality of these pods, ease of installation and the utility they add. Other then painting it's an easy 8 hours. Alaska SkyCrafters offers two options, all cargo or Cargo/Fuel, (29 gallons). 7. IO-520 modification: It's great being on the home stretch of this restoration project. During the year and a half Diana and I have been at this, the 185 has been flyable all but 4 months and this is the last one. We choose the end of October, there isn't much good flying till after the 1st of the year when lakes and rivers are frozen solid and the days start getting longer.

Being around 180/185's all my aviation career and seeing the developments, epically the last 10 years, I knew the way we would go in upgrading our 185 from the IO-470 to the Teledyne Continental Motors IO-520.

We choose the Kenmore Air STC for mounting the Continental IO-520D and the P-Ponk STC for hanging the McCauley 3 blade BlackMac prop and polished spinner. The engine will include the Continental oil filter adapter, New AWI exhaust with seaplane muffler extension, 6 point EGT/CHT engine analyzer, Quantity/flow fuel analyzer, Interav Alternator conversion and Tanis preheat system.

There are many options out there for engine vendors. I spent several months keeping an eye out for IO-520 deals. It paid off, found a IO-520 from an aircraft mishap, ran out of gas and engine was stopped on landing but it was short of the runway which totaled the aircraft. Very low time engine with ECI cylinders.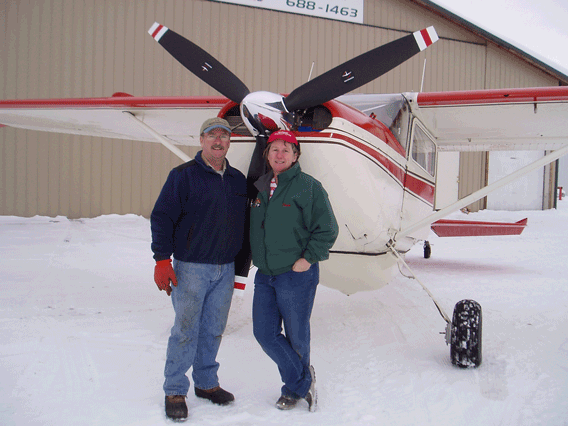 On engine stand ready to go Installation complete First flight, new engine

Removed the old IO-470 and prop. I'll sell these and recoup some of my cost. Removed throttle, prop mixture and cowl flap cables and reinstalled new veneer controls. Firewall cleaned, repainted and silicone some minor holes. Set up wiring, new hoses and new AN hardware as required.

Atlee Dodge Aircraft repaired, reconditioned and powder coated the old engine mount for use with the IO-520. With the engine on a flange stand, installed the engine mounted with new Lord mounts and built the engine exterior; Baffling, ignition, new AWI exhaust, EGT& CHT probes, Reiff preheat, Gami injectors, fuel flow and the new electronics. It takes time and planning to install, route and clamp wires and lines so as not to chaff or interfere and to comply with the installation requirements. Even then they'll be some changes after we hang the engine.

It took hours to remove the IO-470 but it took 2 days to install and rig the IO-520.

8. EDO 2960 Floats: This last phase began in May 2006. Diana and I had planned a month to recondition the EDO floats we picked up last winter. However they were in such bad shape, taking more time then I expected, we didn't finish till August. Too late for this summers float season.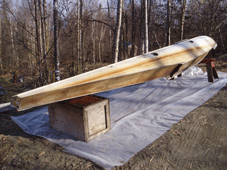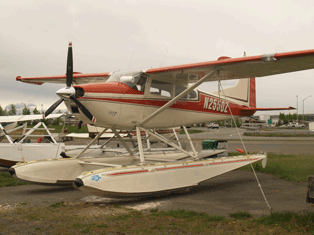 EDO 2960 before Ready to strip Finished Rigged and ready to float

My approach was the same as with the airframe, dissemble, strip, repair, reassemble and paint. With the EDO aluminum compartments and structure held together with steel hardware living for years in a marine environment, it was no easy task. Most bolts especially the main ones were corroded so bad penetrating oil was not enough to fee them, requiring drilling the bolt itself. Floats were then stripped and the compartments cleaned and pressure washed, removing years of silicone and whatever else was used to seal them. Repaired and replace old patches as needed. Sealing the cleaned compartments I use Randolph fuel tank sealer. I hang each float at it's balance point, pore in some sealer then use a reversed vacuum cleaner and rock the float coating the seams while air pressure forces the sealer into any gaps. works great. After the sealer dries I reapply the air pressure and use soapy water on the outside to check for any leaks. Sealing again as necessary This system works great for getting a good tight float. Re-assembling with new AN hardware I coat all the bolts with fuel lube. Fuel Lube is a pain to work with, sticky and hard to clean, only MEK removes it but it's impervious to fuel or water and it doesn't dry. Really helps with preventing future corrosion. After alidone it's prime with DP-50 and Imron white and a little trim paint, done.

This Cessna 185 has a factory float kit and had previously been on EDO floats so all the interior blocks were in place. May 2007 we married aircraft to floats. Hoisting, removing main gear, tail wheel and capping brake lines. Installing main gear float stubs and rear blocks then bolting the floats in place, attaching and tightening cross brace wires and rigging water rudder and retract cables. Floated May 28, 2007.

Dynon EFIS D10A: To say it's never done is an understatement. With the older flight instruments I decided to upgrade to one instruments has all. The Dynon EFIS D10A instrument has Pitot Attitude, Density Altitude, Pitot Airspeed, True Airspeed, Mag Heading, Vertical Speed, Turn & Bank, Slip indicator and OAT all in one unit and it fits in the standard 3 1/2 instrument hole. Installation is simple, I repositioned the Attitude indicator to an empty hole in the instrument panel and installed the Dynon in it's place. The Dynon has a Laser Ring Gyro and only requires 12 or 24VDC which I connected to a 2amp CB. I split the Pitot and Static lines, installed plastic compression T's and connected to the Dynon for Pitot-Static input. Additional accessories installed in the left outer wing were the temperature sensor and Mag Heading Sensor. Dynon uses Temperature in connection with Pitot-Static to resolve and display Density Altitude and True Airspeed. The Mag Heading Sensor stabilizes the heading indication to Magnetic.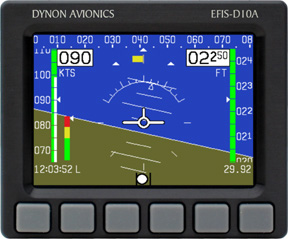 The Dynon unit is not TSO or STC approved and requires a FAA Form 337 for field approval by the FAA. The FAA also has engineering guidelines for the installation of EFIS units (Electronic Flight Instrument Systems) The FAA requires all required Flight Instruments not be removed from the aircraft and placard "VFR ONLY". I have found the Dynon very accurate and a great tool. When you consider the errors these older flight instruments develop and the cost for overhaul or new instruments the Dynon is an economical option.

If your installing an EFIS system in your aircraft here are links to the documents the FAA requires. EFIS Installation guidelines, Flight Manual Supplement and FAA form 337 back page language. Format is MS Word.

The Logbooks:

Regardless of an Oil Change, Annual Inspection or Restoration the FAA requires a record of all work preformed and return to service release.

STC's, FAA form 337's and LogBook entries:

Here is a comprehensive list of the STC and field approvals I used.

Most of the modifications were installed under FAA Supplemental Type Data Certificate, commonly known as STC. These are issued from FAA engineering to the manufacturing vendor after meeting stringent design, engineering and testing requirements. Each STC has it's own set of instructions or procedures. Sometimes various options are available to comply with these instructions. FAA Advisory Circular 43.13 has additional guidelines and practices which must also be consulted and complied with. Modifications not covered under an STC were installed under a Field Approval by the FAA, a onetime installation verified and approved by a local FAA maintenance inspector.

Cee Baileys Windshield CEE Baileys STC SA5451NM
BAS shoulder harness SA2067NM BAS Tail Pull Handel SA3813NM
P-Ponk Gear Mod, PPonk Aviation STC SA2918NM McCauley 3 Blade Black Mac Propeller, P-Ponk Aviation STC SA00413WI PPonk Aviation
Alaska SkyPod, Alaska SkyCrafters STC

SA02179AK

FP-5, Electronics International STC SA00068SE UBG-16, Electronics International STC SA0068SE
Electronics International Inc. IO-520D conversion, Kenmore Air. STC SA525NW

GAMIjectors, General Aircraft Modification Inc. STC SE09289SC

Folding removable Jump Seats SA 02008 AK

AWI Exhaust, Aerospace Welding Inc. New Exhaust System PMA

InterAV Alternator Conversion, Interav STC

SA334SW

MLJ Extended Baggage, Field Approval FAA form 337 MLJ Firewall mounted battery, Field Approval FAA form 337 Reiff Turbo Preheat Systems Snyder Wheel Skis, Dick Snyder STC AirStreak Tundra Tires, AirStreak STC True Lock Axle Locks SA00780SE Cabin Skylights, Cessna OEM installation FAA form 337 **Home**

Site design and maintained by Bruce Moroney

This site was last updated 12/17/15