Bruce Moroney Born San Mateo California, 1948
Raised in Los Altos California Bruce learned to fly with his father and soloed on his 16th birthday and received his Private license on his 17th birthday 1965, a life immersed Aviation had begun. Bruce graduated from Los Altos High School in 1967. College and 4 years in the US Navy came next. Then back in California, Bruce continued learning aviation and earned his Commercial, Multi-Engine, Instrument, Instructor, Ground Instructor and Flight Engineer licenses. During this time Bruce built time as a Flight Instructor teaching others to fly.
In 1972 Bruce flew a small aircraft to Alaska with friends and fell in love with Alaska, moving there permanently in 1974. That was the beginning of a life in Alaska and the love of the great outdoors and a spectacular career in Aviation in Alaska and around the world, which is going on 32 years.
Arriving in Fairbanks August 1974 Bruce expected a position with Alaska International Air but days before, the loss of one of their aircraft to fire meant the airline had too many pilots. Bruce couldn't find a pilot position and getting towards the end of summer meant most Air Taxi's were laying pilots off. Passing through Anchorage, heading back to California, Bruce answered an add for a pilot position in Cordova. Bruce got the job and spent the next 3 years learning the Bush Pilot trade.
First flying position in Alaska Bruce flew Cessna 180, 185 and Aztec for Chitina Air Service in Cordova Alaska on the Alaska Gulf Coast. In early 1976 he moved to Bethel and flew Cessna 185 and his first turbine powered aircraft, the DeHavilland Twin Otter, flying for Sea Airmotive for the winter. Spring 1976 Bruce was back in Fairbanks flying the Navajo and Seneca for Kenai Air Service supporting the Trans Alaska Oil Pipeline construction. Early 1977 Bruce was back in the Twin Otter now for ERA, mostly on flying Alaska's North Slope in support of oil field development.
July 1977 Bruce was finely hired by Alaska International Air (AIA) The airline he first came to Alaska to fly for. Little did Bruce know at the time he would spend 19 years here. Flying the biggest and best bush plane, the C-130. Spending 7 years in the Hercules flying mostly in Alaska's back country, villages, lakes, rivers and Oilfields but also remote regions of Africa, Asia and the Middle East. It was his first International flying, a great adventure and learning experience.
In 1984 AIA changed their name to MarkAir and entered scheduled Jet service throughout Alaska. Bruce trained on the Boeing 737 and for 12 years flew the 737-100, 200, 300 and 400's from the Aleutian Islands to the North Slope, the Bering coast and South East Alaska. In 1992 MarkAir expanded scheduled service from Alaska and throughout the US to the East Coast.
March 26, 1978 Bruce's only son, Joshua was born in Fairbanks. Flying with MarkAir for most of Joshua's growing up years meant Bruce was home most every night. Hard to do in aviation when many nights are spent in another city.
Not all good things last and in 1995 MarkAir closed it's doors. Saying good bye to a lot of friends Bruce moved on but didn't leave Alaska, the roots were too deep. Instead he look outside the State for a flying Job.
Enjoying the International flying with AIA on the C-130 Bruce applied with World Airways and was hired and trained on the MD-11. This was Bruce's first Heavy aircraft and a great satisfaction to fly. Nearly all the flying was International. During almost 5 years there World Airways Bruce flew contracts for the US military, Malaysian Airlines, Garuda Indonesia, Philippine Airlines, El Al, CityBird and others. Learning the art of International aviation first hand, it's a lot different then domestic US operations and a lot more complicated.
World Airways was floundering and Bruce, not wanting to go down with another airline choose to join Atlas Air in 1999. Plus the chance to fly the Boeing 747-400 was irresistible. Bruce has been herding this mammoth aircraft around the world. Regularly flying to Asia, Middle East, Africa, Europe, America, Australia and South America.
2011 Bruce upgraded to Captain with Atlas flying the Boeing 747-400/-8 until his retirement November 2013. Finishing an Air Transport career spanning 38 years. flying the latest and greatest, Boeing 747-400 and -8 worldwide.
Even though Bruce is retired from the Air Transport world his career in professional aviation continues. Bruce joined Rusts Flying Service May 2015 flying Cessna 206 and DHC-2 Beaver on floats during the summer, flying tourist, fisherman and hunters to the remote reaches of Alaska.
November 2014 marked 50 consecutive years as a licensed pilot, receiving the FAA Wright Brothers Master Pilot Award in July.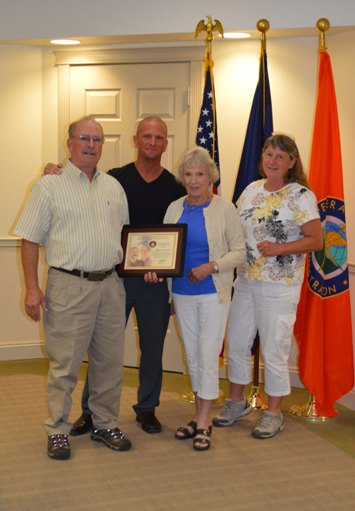 July 2015 Master Pilot Award
Bruce, Josh, Mom and Diana
Aviation with Bruce manifest itself in just about everything he does. In 1978 Bruce bought his first aircraft a Piper PA-12, which he flew throughout Alaska, hunting, fishing and camping, on wheels, skis and floats. 1984 Bruce traded up to a Cessna 180, also on wheels, skis and floats. 2004 Bruce and Diana bought their current aircraft a Cessna 185 Skywagon.
In 1979 Bruce earned his Airframe & Power plant license (A&P) since then Bruce has been maintaining, upgrading and restoring his aircraft.
1997 Bruce and Diana opened Tri-Star Aviation, a FAR 61 Flight School at Birchwood Airport.. Operating 2 Cessna 150's a Piper Archer and a Taylorcraft. Training Private, commercial and instrument students. In 2004 The school was closed due to rising insurance cost.
Another aviation love for Bruce in his involvement with the Iditarod Airforce. Iditarod pilot since 1986 Bruce first flew his C-180 on skis, supporting the dog teams racing to Nome. For 2 years in a Piper Archer and since 2004 on Wheel Skis in a C-185 Bruce owns and fly's with Diana.
Bruce's involvement and love of Iditarod brought him in contact with Diana Dronenburg in 1990. This lasting relationship resulted in Bruce entering and completing his rookie Iditarod in March then marrying Diana in June 1994.
Diana Moroney (Hunter) Born Sacramento California 1956.
Diana grew up In West Sacramento, California enjoying the hot summers with her horse along Sacramento River. In 1968 Diana's family moved to Monterey California where she lived though High School. After graduation Diana moved to Chico and attended college at Chico State.
The lure of Alaska however was too strong to resist. May 1976 a friend called with a job offer in Barrow,Alaska and without hesitation the car was sold, the bags were packed and an airline boarded to Alaska.
Diana first worked as an expeditor for the Naval Artic Research Laboratory, NARL, on a DC-3 flying between the DEW-Line sights along Alaska and Canada's north coast. Diana would spend 10 years in Alaska's Artic, working for NARL, the State of Alaska Department of Labor and running a Wilderness Youth Camp for the Borough.
1981 Diana purchased her first dog team while in Barrow and fell in love with training and traveling with sled dogs. This love of the sport of dogs racing would result in Diana entering and completing her first of 10 Iditarods in 1984. Diana's career in racing sled dogs has spanned over 22 years with races in Russia, Alaska, Canada and the states.
Diana has been responsible for many Mushers getting there start in dogs with there first ride on her sled, standing on the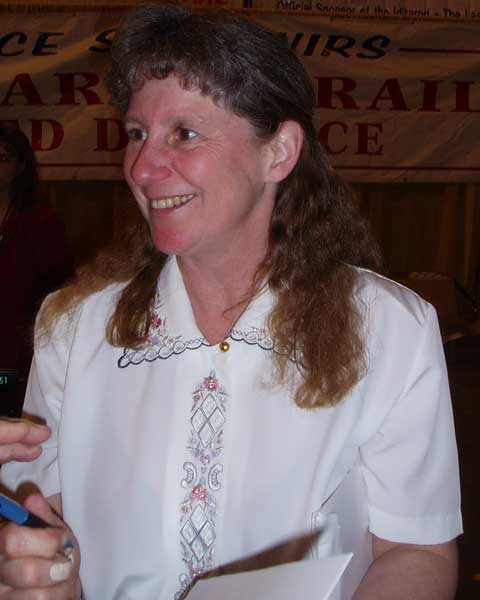 runners while Diana sat in the sled basket. Several Mushers had her help in training there dog teams and running Iditarod. Every musher Diana help train for Iditarod made it to Nome.
Iditarod pilot since 1998, Alaskan resident since 1976, Diana holds an ATP and has flown commercially in Alaska since 1995, flying the DC-3, DC-6, Casa 212,C402, PA 31 & C208 for local Alaskan Air Carriers. Diana has been involved in Sled Dog racing since the early 80ís and has raced the Iditarod 10 times, (last Iditarod 2005). Diana has also run the Hope race, Nome to Anadyr Russia and the Yukon Quest, Knik-200, Su Valley 300, Kobuk-440, Copper Basin-300 and Beargrase-500 as well as many others. Diana flies a Cessna-185 on skis for Iditarod which she owns with her husband Bruce, also an Iditarod Airforce pilot.
Diana's 1st flying job was as co-pilot on a Douglas DC-3 for Woods Air in Palmer Alaska, flying freight through out Alaska. While with Woods Diana got her Flight Engineer rating and flew the DC-6. 1997 while flying for Majestic Air in Anchorage Diana earned her ATP in the DC3. 1998 Diana began flying her 1st turbine aircraft the CASA-212 for Artic Transport in Nome.
December 2007 Diana joined Empire as a direct hire Captain on the ATR 42/72, flying for FedEx between Anchorage Fairbanks and Kodiak.
June 2010 a major career move to Atlas as 1st officer in the Boeing 747-400. Diana's 1st turbo-jet and Boeing's biggest! Being based in Anchorage Diana flies mostly cargo flights in the Pacific Rim, although ending up in the Middle East, Europe, Africa, South America, or Central America is not too terribly uncommon. Diana has 5 more years of flying for Atlas before having to retire.