Sailing route 2014 Timeline and Schedule The pictures KL3RK

Morning Dove

The Blog 2016

February 8, 2016

What's been happening, Pictures and videos, planned activities.

The map below is to SV Morning Dove's route. Updates enroute is through the HAM radio Net when I send position reports. The second link is my Spot tracker which is real time but only a week of data and stops tracking at anchor.

Morning Dove's position is tracked from position reports via WinLink, my Armature Radio (Ham) call sign KL3RK

Position reports on map prior to May 2015 are historic from Yankee Point Marina, through the Caribbean, Panama to Mexico.

Starting January 2016 position reports of SV Morning Dove in real time.

Refresh your browser to ensure you get the latest update

May 29, 2016

Our family and friends are aware of the calamity that befell SV Morning Dove and it's crew at 20:00 local, May 3rd in the Tuotomos Archipelago. For other followers here is why there has not been recent post to this page.

Myself and crew, total 4 persons. Had to abandon Morning Dove and were rescued by a Tahiti Navy helicopter 02:00 May 4.

Morning Dove was sailing from Apataki Atoll to Rangiroa, we became lodged on a reef about 20:00 May 3rd. Conditions became extreme, the hull and diesel tank breached. We were in water and diesel with surf pounding and the boat was laying on the reef on her side. The reef was totally surrounded by water and raging surf.

The EPIRP was activated and a mayday was put out via SSB/VHF before the radios were under water.

Surf continued to push the vessel 50-75 yards further on the reef. 02:00 a Navy helicopter hoisted the crew and flew to Rangiroa.

Within hours nearby village residence looted Morning Dove, steeling everything, including the toilets. Days later insurance surveyors arrived at the site. Surf and looting had rendered Morning Dove a total loss. A few days later Morning Dove was towed off the reef and sunk.

I'm still at a loss on how we collided with a reef and still in shock at loosing this beautiful vessel. Diana and I will take this summer to plan future adventures.

Looking back I appreciate the miles I have shared sailing Morning Dove with family, friends and crew. The Blog pages within this site chronicle these adventures.

Thank you everyone who supported and followed SV Morning Dove.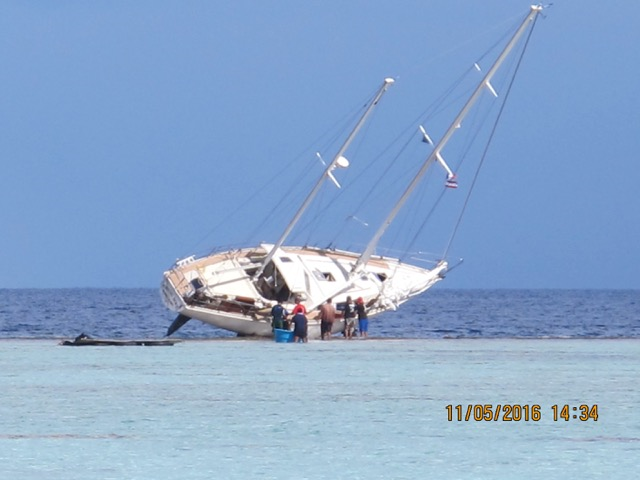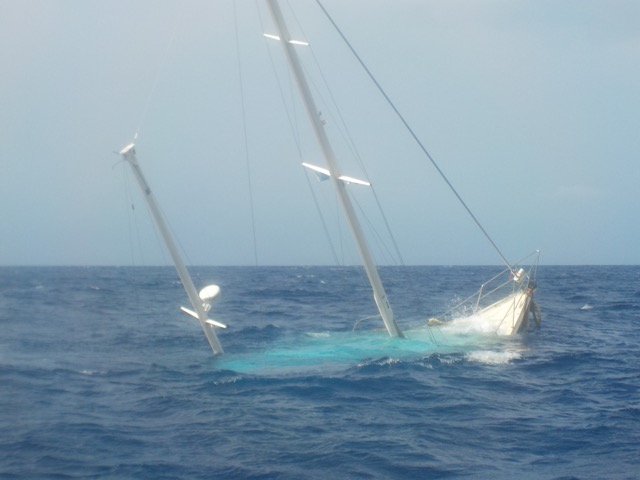 April 28, 2016
Just when I thought everything was working, the camera crashed, can't pull any clips since before the Marquesas. I have iPhone video so I'll put something together.
We spent a week, much too short, between Hiva Oa, Fatu Hiva and Nuka Hiva before setting sail to Tuamoto's Archipelago.
The 4 day crossing saw mostly very light winds. Except for the long ocean swells we could be on a lake. Towing fishing lines netted 4 Marlin, great show as they danced but each took a $20 lure.
April 16, 2016
Arrived in Hiva Oa Saturday after a 26 day Pacific crossing from Puerto Vallarta. We had a fantastic passage, only 2 days of calm conditions in the Doldrums and we avoided the worst weather in the ITCZ. The last week we had a lot of rain squalls but no thunder storms.
Great celebration crossing the Equator with King Neptune's decree for the crew as Shellbacks.
Were heading to remote outer islands for the next week then on the Tuamoto's Archipelago then Tahiti the about 9th of May.
Finely have internet and will try to post videos of our crossing.

View on YouTube
View on YouTube
March 20, 2016
As a kid I dreamed of crossing the ocean, now after years of planning Morning Dove is 24 hours from stepping off the American Continent for 3400nm to Tahiti and French Polynesia. We expect 21-27 days at sea before we reach the first Islands of the Marquesas, Hiva Oa, Then another 700nm to Tahiti.
The Dove has been ready since leaving San Carlos Mexico in January, sailing to Puerto Vallarta. Leslie, Michael, Sterling and I returned to the boat and have been spending the last 5 days provisioning, storing and securing for a long ocean passage.
During our passage our positions will updated twice daily and can be found at www.alaskawings.com Bolg2016 and YoTreps.
The adventure awaits!
February 8, 2016
Arrived in Novo Vallarta last Saturday. Were at Paradise Village Marina, slip B38 if anyone happens to be this way, drop by.
Been busy attending the PPJ seminars for the jump across the Pacific to the Marquises in March.
Dr Bob and Dr Deb joined the dove this last week. We sailed to Punta Mita and enjoyed Dorado Tacos at anchor. Next day to Yalapa, a remote village on the south side of Banderas Bay. Hiking to the falls and swimming the cool clear river.
Back in the Marina I'll get more chores done, replacing 2 shrouds, before heading back to Alaska and Iditarod this Sunday.
The Dove is ready for our Pacific crossing in March. Poor internet here, I'll post another video when I get home.
January 19, 2016
In La Paz getting ready for our crossing to Puerto Vallarta via Isla Isabela, with Ed and Robin Kornfield. John and Donna had a good week sailing with from Puerto Escondito to La Paz. Were headed to the local super mercado for provisioning for the next week.
January 11, 2016
Finely have internet since leaving San Carols January 3. Were in Puerto Escondito at the marina. Arrived here and expected to see all Morning Dove's positions I sent via SSB and winlink posted on Alaska Wings web site and FaceBook but nothing. I'll work on fixing the problem. As we travel you should see our progress even though I have no internet access to update Alaska Wings.
Leslie, Sterling and I arrived Santa Rosalia after a 12 hour crossing the Sea of Cortez. Alison and Terry were on the dock to meet us. A night on the Dove to get settled in and we were sailing south next morning along the rugged Baja coast to Punta Chivato and Shell beach. The beach, miles of all kinds of clam and spindly shells. Tuesday a short sail to Santispac in the Bahia Concepcion where we spend two days. Swimming, exploring and evenings at the beach bar. Thursday was a long 8 hour sail with spectacular scenery to Caleta San Juanico, even caught a 30 lb Skip Jack Tuna, Not all that good, meat is dark as liver and a bit strong for my taste, but fish tacos we had. More swimming and fishing in San Juanico, 4 Porgy and 1 Trigger fish and they were very good eating, fish fry that night. Saturday the winds picked up and we had a romping sail, 6 hours to Honeymoon Cove across from Puerto Escondito. Windy night at anchor. Sunday morning 3 miles across to the marina. Alison, Terry and Sterling packed up and taxi to the Loreto Airport and home to the grind.
John and Donna Norris are joining us this afternoon. We were planning to sail to Agua Verdi but the wind is gusting to 25 and a bit rough. We will head south in the morning, if the winds subside.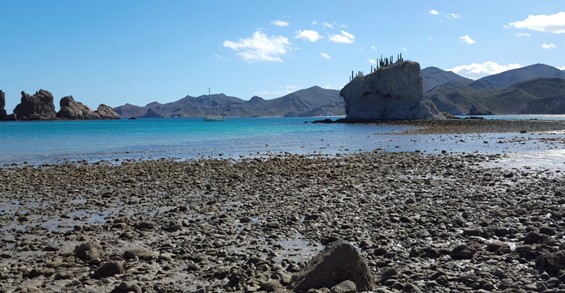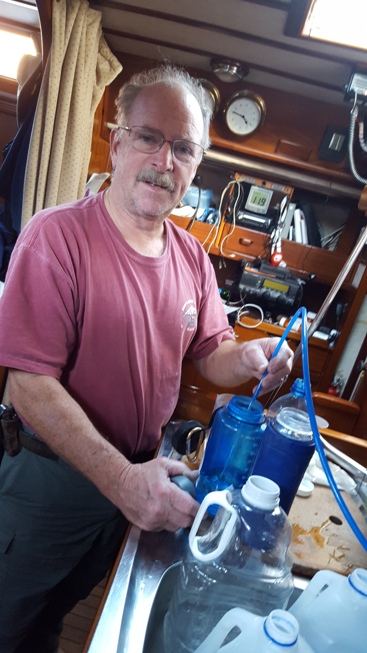 Terry, Alison, Bruce Shell Beach San Juanico Fresh from Seawater
View on YouTube