Sailing route 2014 Timeline and Schedule The pictures KL3RK

Morning Dove

The Blog 2015

November 25, 2015

What's been happening, Pictures and videos, planned activities.

The map below is to SV Morning Dove's route. Updates enroute is through the HAM radio Net when I send position reports. The second link is my Spot tracker which is real time but only a week of data and stops tracking at anchor.

Morning Dove's position is tracked from position reports via WinLink, my Armature Radio (Ham) call sign KL3RK

Position reports on map prior to May 2015 are historic from Yankee Point Marina, through the Caribbean, Panama to Mexico.

Starting January 2016 position reports of SV Morning Dove in real time.

Refresh your browser to ensure you get the latest update

December 16, 2015

I've been back home in Alaska for two weeks now. Brought several boat projects home, rebuilt the main outhaul furling gear, fabricated new helm seat and nav station seat. New Nav station shelves and doors. Plus shopping for lot of stuff for the boat.

Diana and I will be in Fairbanks for Christmas and the 27th I'm flying to Tucson to meet up with Leslie and Sterling then on to San Carlos.

A new Blog 2016 will go forward for our 2016 sailing adventures and the March Pacific crossing to the Marquises Islands and on the Tahiti.

Stay tuned.

November 25,2015

It's been a long month here is San Carlos Mexico. Started working on the Dove with a lot of uncertainty, where can I install the new watermaker and can I install this complex system at all. New autopilot, will it even fit in the space I have planned and new davits for solar panels, will it work. Plus sand and repaint the bottom, wax the hull and numerous other chores getting the Dove ready for her Pacific crossing...

The Cruise RO watermaker couldn't have gone better. Took 5 days mounting the modules in the passage way to the aft state room, HP pump in the engine compartment the myriad of lines and wiring. Autopilot fit as planned and a trip to Phoenix when I drove Leslie for her flight I was able to get the proper drive sprocket. A local welder fabricated mounting for the solar and wiring was easy. Only hitch came after finishing the ablative on the bottom I discovered the cutlass bearing was worn. Took all day to remove the prop shaft and hammer out the old bearing but finished this Sunday.

Launched the Dove Tuesday morning. Spent the day getting the 2 heads cleaned and working, had to overhaul the forward Raritan other wise all is working and no leaks. I'll head north Thursday for T-day with Diana, Mom, Cathy and Tom. Saturday Diana and I fly home for the holidays.

Dec 28 I'll join Leslie and Sterling in Tucson, head to the Dove.

Alison and Terry will join the Dove Jan 3 and will head across to the Santa Roselia, Shell Beach, Bahia Concepcion, Isla Danzante and Loreto.

January will work our way south to Puerto Vallarta, our jumping off point for the Puddle Jump Rally 2016, across the Pacific to French Polynesia.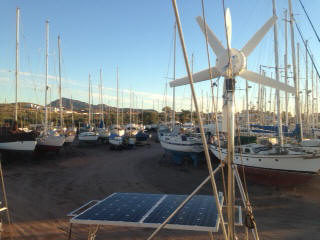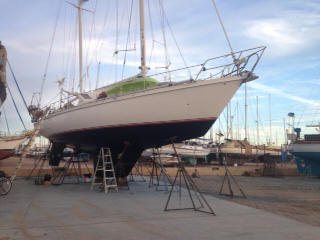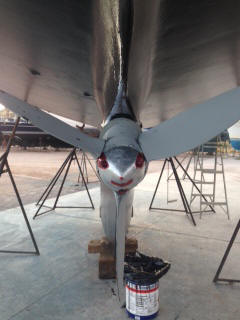 Solar panels, new davits new bottom ablative, Zink on folding prop ready to launch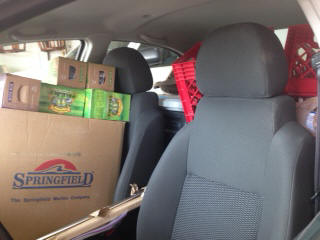 New Watermaker loaded for Mexico Launch Nov 24
October 17, 2015
As usual plans have changed. Originally I was launching the Dove Jan 5th but in looking closer at the tides, there won't be enough water, in fact the next tide high enough to float the Dove is late Feb. Dec 12 has a good tide but then another airline ticket and rental car. Nov 24 has a good tide so that's our launch date. The work has doubled for Nov. All the jobs planned for after Christmas, bottom sand and paint, hull buffing, new thru hull fitting, replace zincs, bow thruster , water tank and more need to be completed before launch.
I'm headed to the Dove Nov 1. Hopefully Leslie will join me, there's a lot to be done. Timeline is updated.
If by chance you find yourself in San Carlos Mexico and stop by Marina Seca, be careful, I might put you to work!
August 9, 2015
I'm making plans to head back to the Dove when the snow flies in Alaska and March 2016, Leslie, Michael and I setting sail with the Puddle Jump to French Polynesia. I'll amend the timeline page to reflect the new itinerary.
Work list is growing to get the boat ready to cross the pacific. New Raymarine autopilot, RO watermaker, Canvas repair and the like. I expect a month to get the Dove ready to sail. Not to mention provisioning for 3 months plus.
November I'll fly to Tucson. Costco for initial provisioning stores then to San Carlos. Autopilot, watermaker and SS supports for the 2 solar panels are the big jobs I need to tackle. The rest will come together.
| | |
| --- | --- |
| Install Raymarine Autopilot | Repair Forward Head |
| Install Cruise RO watermaker | Check Masthead/Shrouds/Stays |
| Replace Filter/Bleeder on Engine | Clean and Flush Water Tanks |
| Replace Zincs, Lube Prop | Clean Freezer Engine/Intake |
| Construct Davit/Solar Panel Racks | Construct Nav Station Shelves |
| R&R engine, trans oil, RW impeller | Test Electric Bilge Pump |
| Replace zippers/repair canvas | Fill Propane |
| Clean Roller Furlers | Fill Ditch Bags |
| Ablative Paint Bottom | ReWire Port Side TV cables |
| Rail repair | Sand Varnish Oars, Teak in cockpit |
Planning all November working on the Dove in Mexico then north for Thanksgiving in Tucson at Cathy and Tom's with Mom and Diana. December in Alaska then back to Splash and sail the Baja south. I'd like to arrive in Puerto Vallarta by mid February, our jumping off point for the South Pacific crossing March 20th.

Looking forward to the next adventure, crossing the Pacific...

May 17, 2015

Back home and with a new laptop I'm finely getting caught up. It's been over a month since my last post, what a pain computers and cameras have been. Humidity, salt and an old laptop finely caught up with me, my laptop crashed then the keyboard on my standby failed. With no way to edit or post anything I was stuck.

As noted in my March 20 post, I'm delaying crossing to the South Pacific. The plan is to depart mid March 2016.

Back to the Dove after Easter with a new transmission and alternator in hand. Everything fell in to place, needed some fabrication to remove an unused alternator flywheel and cooling water re-route. Took almost a week but the results are a smooth running trans and a glitch free alternator. The Dove is back to 100%, at least till the next breakdown...

Drove north to Green Valley the end of April . Cathy and Leslie joined the boat. we sailed across to Bahia Concepcion, Mulege and San Juniaco for a week then back to San Carlos. a little sailing, motoring and we caught fish. Cathy headed home while Leslie and I spent a week getting the Dove cleaned and ready for haul out May 7th.

The Dove is on the hard for the summer in Marina Seca, San Carlos. I'll enjoy summer in Alaska with Diana, flying, fishing and family till we set sail in the fall.

The adventure continues...

Sailing the with Cathy and Leslie

April 7, 2015

Green Valley Arizona and Easter with Cathy, Tom, Josh and Grace. Had a great Easter here.

After Cob and his gang left I sailed north along the Baja then across to San Carlos. The transmission has been making a racket and leaking, a rebuilt trans was waiting for in Green Valley. I pulled the offending trans, it was a bitch, then rented car for a few days driving north for Easter. Always enjoyable being with family and especially great spending time with my oldest grand daughter Grace, 15 and doing great.

We made plans for later this month. Grace will be finished with school and will drive to San Carlos with Cathy and spend a few weeks on the Dove sailing, Can't wait.

The biggest change for this summer is my plans to delay crossing the Pacific to the Marquises till next year. I had planned to cross the end of May but departing so late in the season left little time to enjoy the Islands before heading home to Alaska. Now planning the middle of March 2016. A lot things still need to fall into place to make this work. I'll update the timeline.

March 20, 2015

Back on Morning Dove in Santispac, Bahia Concepcion, just south of Mulege. Filling up the Dove's water tank from a pela. Cob, Kim, Cathy and Dave join me for a week of sailing. San Juniaco, Balandra, Agua Verdi and Porto Escondito. Great sailing and just a few Margaritas...

Cob, Kim, Dave and Cathy sailing the Baja

March 10, 2015

Diana and I are in Galena on the Yukon River, -30f this morning, not the Sea of Cortez! Enjoyed the start of Iditarod last Saturday in Anchorage. Because of no snow the restart was in Fairbanks Monday and yesterday afternoon we loaded supplies for the trail and headed out. Spent today flying supplies and volunteers out to check points, ready for race teams to arrive. We will transport volunteers, officials and the dogs this next week.

Three days of snow has given way to high pressure and cold, -30f here and as low as -40f on the trail. No snow and warm conditions forced the move to led to moving the restart to Fairbanks and now there is plenty of snow and it's bitch cold... I'll get some videos posted.

Flying Iditarod 2015

March 2, 2015

I've been home a week now catching up on things and getting ready to fly Iditarod. Got videos posted, more to come, Cord of wood split and stacked, oil changed on the Skywagon, gear for the next 2 weeks organized and parts for the Dove ordered. Ordered a new transmission for the Dove. I'll sail to Guaymas in April and install a new transmission, it's been a battle, leaking and noisy, it's time.

The biggest change is my decision to head to French Polynesian in May and see where this leads me and Morning Dove.

It's been a lot of soul searching but my dream has always been to sail the worlds oceans, daunting for sure, hence my plan to Hawaii, Alaska and back to the US.

As I take council from other sailors and measure my own metal I think the best approach is continue letting this adventure develop as it has. Take each challenge, figure it out and enjoy the ride.

I looked for a boat and bought it. I outfitted a boat and sailed it. 5000 miles later and with the help of friends and an understanding wife I'm in Mexico and I see no reason to stop. I have a plan and crew to French Polynesia, when I get there... I'll set a plan and the adventure will continue.

Diana and crew sailing on Morning Dove

February 10 2015

Sorry it's been so long posting a video. It's not for want of trying but with the internet here it's been difficult.

We have had a great month sailing and motoring thus far. Starting with Leslie and I motoring 14 hour across from San Carlos to Santa Roselia in almost no wind. Light winds south to Shell beach and Bahia Concepcion. Spent 3 days visiting and relaxing in Mulege before finding a good south breeze to Punta Pulieto, Isla Colorado and Bahia Balandra. A short stop in Loreto for groceries and on to Agua Verde. 4 days in Agua Verde, just hanging out and cleaning the boat before Diana, Deb and Bob arrived for a weeks adventure.

Porto Escondido for Super Bowl, what a disappointment... Leslie headed back to Chicago then Iditarod. Diana, I and crew sailed to Bahia Salinas and the salt ponds. Only problem, they were closed, so we resorted to beach combing. Now loaded with a booty of natural flora and fauna looted from a Park de National, oops. Next Agua Verde via Honeymoon Cove. Sighted several Blue Whales, dolphins and the Rays were sailing and flipping. Spent 2 days swimming and hiking Agua Verde then sailed north to Loreto, out of Tequila..

Diana and crew headed back to Alaska and I'm on my way north for some sailing and exploring before I park the Dove for a few weeks while I'm in Alaska for Iditarod.

Sailing Santa Roselia to Bahia Concepcion Sailing Bahia Concepcion to Loreto Sailing Isla Danzante, Agua Verdi

January 9, 2015

Finely ready to set sail tomorrow across to Santa Rosalie then Loreto and 4 months along the Baja coast. We arrived in San Carlos the 29 and itís been nonstop chores getting Morning Dove ready to sail. Spent 4 days in the work yard sanding and two coats of anti fouling paint. In the Water last Saturday but the jobs continued, Deck wash from top to bottom, Sails up and rigged, new bearings in the seized alternator, install new house alternator, replace propane switch, rebuild the aft head and the list goes onÖ

San Carlos to Santa Roselia and south