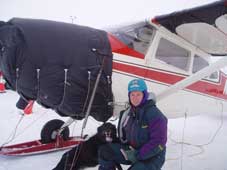 An Alaska Bush Pilot Family
Diana & Jenny The Team to Bethel About Us - Iditarod -Iditarod Airforce - Atlas Air - Skywagon - On The Wing - Feedback - Josh&John

The background picture is of Pat Moroney, landing his Cessna 182 at Chamberland, a forest service strip in the Idaho back country.

Bruce moved to Alaska in 1974 and began his aviation career flying the Bush, first in Cordova then Bethel, Fairbanks and Anchorage. Bruce retired from Atlas November 2013, Captain Boeing 747-400/-8.

Diana moved to Alaska in 1976, starting her flying career in 1994 flying DC-3's out of Palmer Alaska the CASA 212 with Artic Transport in Nome. 1999, Cessna 208 Caravan with Grant aviation out of Anchorage. 2005, ATR with Empire. Joining Atlas Air 2009 as 1st officer on the Boeing 747-400.

John Dronenburg, Diana's son is also a pilot. All through college John was a bush pilot during the summer. After college Sarah and John were married and moved to Bethel, John flying the Bush and building flight time. Now living in Anchorage with two girls, Charlotte and Serena. January 2015 John joined Alaska Airlines as 1st officer.

Josh Moroney, Bruce's son also learned to fly. While not undertaking an aviation career Josh loves to fly. Josh presently lives in Mesa Arizona with his wife Kasie, Grace, Caden and Christopher.

My first aircraft in 1976 was a Piper PA-12 Super Cruiser. It didn't take long for me to upgrade it to a work horse. Swapping the O-235 engine for the 150 hp O-320 Lycoming and adding Supper Cub tail, landing gear, Wesco Skis and EDO floats. It was slow, 80 knots, but I covered the State of Alaska north of the Alaska Range and Canada up to Inuvik. Every year I'd fill the freezer with Moose, Caribou and fish.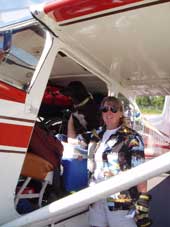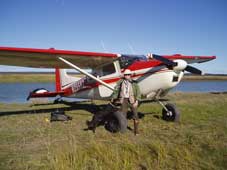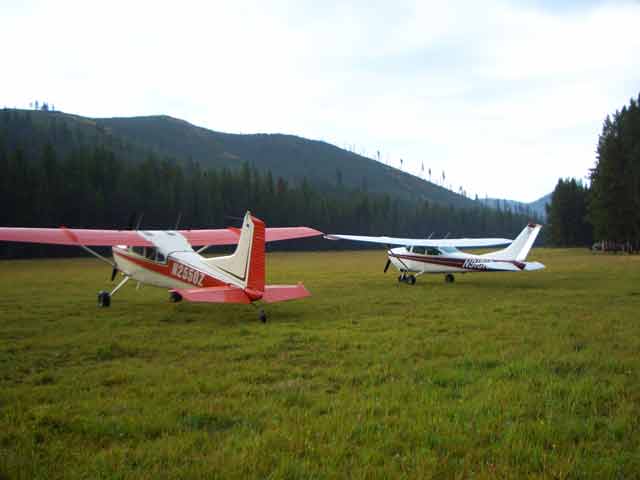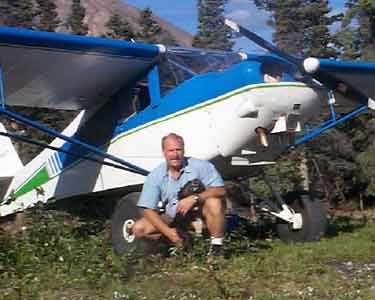 Diana & Jenny camping Bob Greets duck hunting Bruce & Pat at Flying B in Idaho Bruce & Jenny at Rohn
1984 it was time to pick up the speed and I bought my first Cessna a 180 Skywagon. With the extra speed and payload we ranged through out Alaska. Snyder wheel Skis in the winter, EDO 2960 floats during the summer and Tundra tires into back country strips.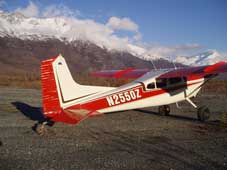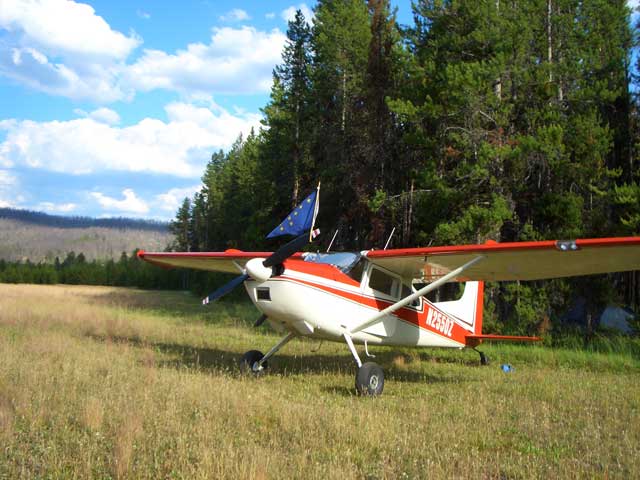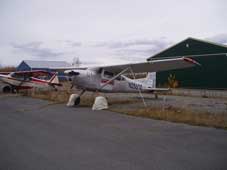 C-185 on Kinik Flats C-185 at Chamberland in Idaho C-185 in BCV before painting Pat getting some tail wheel time
**Home**
Site design and maintained by Bruce Moroney
This site was last updated 12/17/15